QUALITY IN THE DETAIL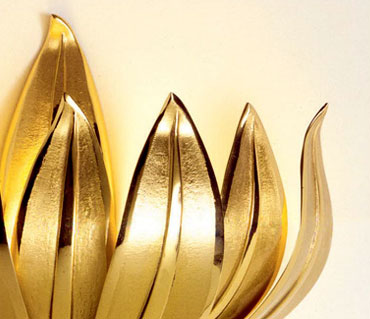 A LUMI's lamp is recognisable at first sight because of its incomparable quality level of the finishing, made with outstanding manual skill by expert cleaners and colourists. The maximum attention is dedicated to the matching of the colours, but even to the metal finishing, such as the shining and the glazed technique, which are often alternate on micro detail of the lamp.
The tested and entire artisan process allows, with the greatest flexibility and precision, to realise the finishing the customer
want. We use to suggest to match different styles of finishing in order to make the item more attractive.
Famous and peerless is the traditional GOLD PLATING 24K LUMI finishing. The finishing, which since ever characterised
our collection, come out from a long and complex process: on first a very careful hand cleaning of the metals; then a
galvanic process in different phases, the nickel-plating (to fix better all the finishing), the coppering (to bring out the satin)
and the gold plating 24 K, ending with the vurnishing and the eventual old patinating to give that ancient effect to each
detail of the lamp. The same quality, refinement and feelings can be obtained through the NICKEL-PLATING LUMI which bring out each single detail of the lamps with pleasant Silver reflections. Pleasant as always and extremely warm and personal is the BRASS finishing, shining or satin, which characterise some of the LUMI collection models LUMI. For some peculiar models we suggest the CHROME finishing, applied on a surface hand-pulished with the help of an appropriate machinery, which gave a mirror effect. A finishing with a great impact and with an high level of personalization is the ANCIENT PATINATING OR SPONGING which can be used on any among our models or detail with an infinite variety of colour at the customer disposal. On demand, it is possible to apply to the LUMI models the so called GOLDEN OR SILVER LEAF finishing, definitely refined, that matches extraordinary well with traditional environments.